2020 State of the Lake Introduction
Edited by Geoffrey Schladow, UC Davis on August 1, 2020
The University of California, Davis has conducted continuous monitoring of Lake Tahoe since 1968, amassing a unique record of change for one of the world's most beautiful and vulnerable lakes.
In the UC Davis Tahoe: State of the Lake Report, we summarize how natural variability, long-term change, and human activity are affecting the lake's clarity, physics, chemistry, and biology. We also present a portion of the data collected in 2019–presenting all of it would be a monumental task. While Lake Tahoe is unique, the forces and processes that shape it are the same as those acting in most natural ecosystems. As such, Lake Tahoe is an indicator for other systems both in the western United States and worldwide.
Our goal is to understand the lake's complexity and to use the knowledge gained to provide the scientific underpinnings for ecosystem restoration and management actions. Choosing among those options and implementing them is the role of management agencies that also need to take into account a host of other considerations.
Click here for the full report: https://tahoe.ucdavis.edu/stateofthelake
Removing Mysis Shrimp
Billions of invasive Mysisshrimp, introduced in the 1960s, live in Lake Tahoe, where they eat native zooplankton that historically helped keep the lake blue and clear while also serving as a food source for native fish. UC Davis TERC researchers found that when Mysis shrimp mysteriously disappeared from Emerald Bay in 2011, native zooplankton rebounded almost immediately. Within two years, clarity had increased by almost 40 feet. The reverse effect occurred when the Mysis returned.
TERC is now halfway into a two-year pilot project, with many late nights trawling for shrimp, to find an effective means of removing enough Mysis shrimp to improve lake clarity indefinitely.
"Even with climate change, we're finding that if you get rid of the shrimp, clarity improves," said Geoffrey Schladow, director of UC Davis TERC and a professor in the College of Engineering. "Their removal allows for the return of native zooplankton, which have the ability to consume both tiny algae and fine clay particles that have reduced clarity in the past. That is huge."
Clarity
Clarity improved dramatically in 2018 to 70.9 feet, thanks to a return to more normal weather and streamflow conditions. This represents a 10.5-foot increase over the 2017 value, but is still far short of the clarity restoration target of 97.4 feet. Over the long-term, summer clarity has been declining and largely offsetting gains made in the winter months.
Heat, Snow, Rain and Fire
Temperature and precipitation were average in 2018. However, the lake's air and water temperatures have been warming since measurements began in 1968. The average water surface temperature in 2018 was 53.2 degrees F, the second warmest on record. The maximum daily summer surface water temperature was one of the highest observed at 77.5 degrees F on Aug. 6.
By century's end, the Tahoe basin is projected to experience air temperatures up to 9 degrees higher than today's average. A shift from a snow-based to a rain-based climate will result in peak stream-flows occurring months earlier than present day, with those flows arriving as warmer water. Consequences could include changes to fish spawning, a loss of water storage and elevated wildfire risk.
Mixing
The most serious climate changes for the lake over the coming decades are likely to be driven by changes in physical processes like mixing, not simply changes in air temperature.
Warming prevents the lake from fully mixing in winter, which it failed to do in 2018 for the seventh straight year. Lack of deep mixing further warms lake surface temperatures and contributes to nitrate buildup and algal growth. Nitrate concentration was at an all-time high in 2018, at 20.9 micrograms per liter. Such nutrient loading can affect blueness, clarity and stimulate algal growth.
Aspens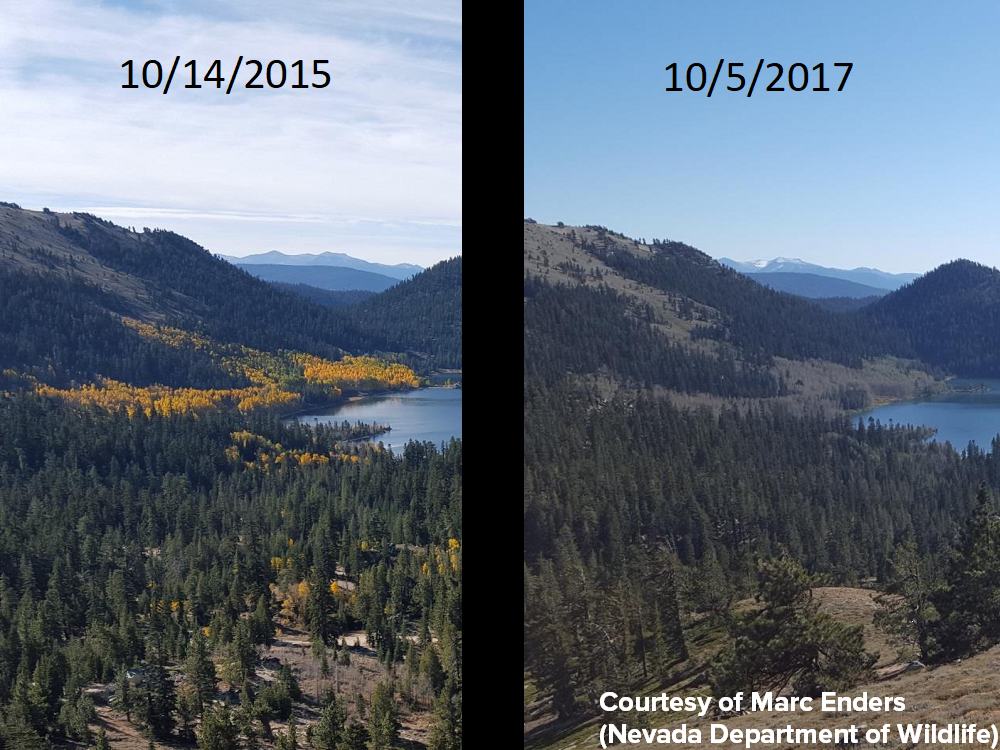 The dwindling population of heritage aspens is visually apparent when comparing photos from 2015 and 2017. 
The report also describes an emerging threat to forest health. The white satin moth is defoliating stands of aspen trees in part of the Tahoe basin. Some of these trees are considered "heritage trees," with their trunks showing the carvings of Basque sheep herders from the early 1900s.
Many solutions working together
"The efforts long underway in the Tahoe Basin to improve lake health and clarity have been and continue to be important," Schladow said. "Maintaining and building resiliency requires many solutions working together, as well as more tools in our toolbox than we've currently been using. That's one reason we find this ecological solution to be so exciting. Our clarity goals don't have to be derailed by climate change."